Cryotherapy or Freezing of Verrucae
A popular treatment option for painful verrucae
Carbon dioxide cryotherapy
A popular treatment option for troublesome verruca available at all our clinics
We use Spembly™ cryotherapy systems in all three practices as a secondary treatment option for patients who do not want to proceed with Swift microwave therapy.
Efficacy of cryotherapy is lower than that of Swift. Patients see around 60% successful resolution of lesions with between 4-8 cryotherapy sessions.
We understand how verrucae can affect quality of life and walking comfort and in our experience with determination and professional support you can look forward to a life without painful verrucae.
This treatment is available on a pay as you go basis at Horsham, Horley and Rochester. We provide freezing at a cost of £10 per session in addition to your consultation cost of £49.
We will always undertake an assessment appointment first to discuss the diagnosis and suitability of treatment options (£49). Treatment may be possible at the first appointment, but only if time allows.
Take your first steps towards more comfortable feet, book online, call us on 01403 276272 or send us an email on our contact page.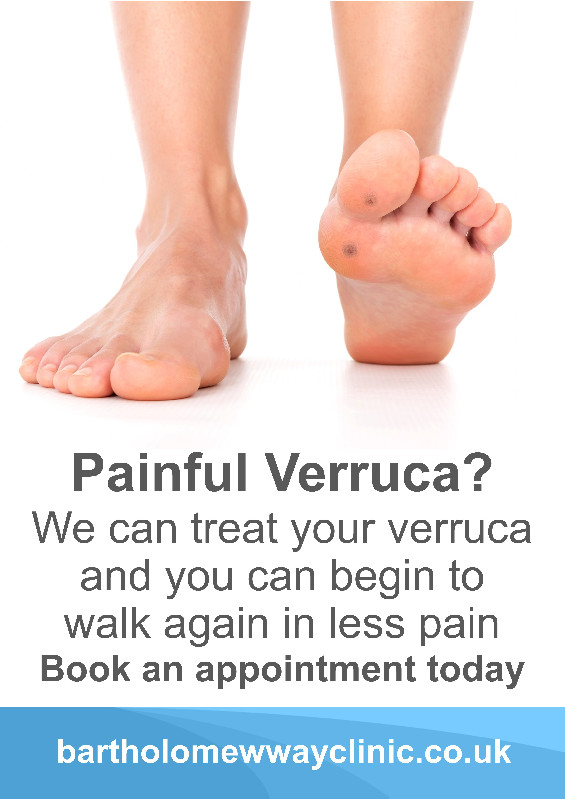 After gentle debridement of any hard skin over the verruca, your practitioner will apply a little water based gel to the skin over the area to be treated. The Spembly™ system is then primed and a constant flow of carbon dioxide through the probe begun while applied to the gel.
The Spembly™ system reduces the temperature of the probe, contact gel and the tissue to be frozen to around -60 degrees centigrade.
Application times vary from 30-90 seconds and multiple applications may be advised.
Your practitioner will usually dress the area treated with a dry dressing. This will usually remain in place for 2-3 days during which some post treatment blistering and mild discomfort is normal.
We will continue to treat at 3-5 week intervals until resolution of the lesion.
Take your first steps towards more comfortable feet, book online, call us on 01403 276272 or send us an email on our contact page.
Where Are We?
How to find us
We are situated in the Holbrook area of Horsham; off Rusper Road coming from Horsham town centre, or off the A264 from Crawley and Gatwick. Located opposite the Holbrook Doctors' Surgery, within a small parade of shops. See our find us page for maps, or scroll to this page footer.
For an appointment or chat with our therapists call Jackie, Michelle, Louise or Alison our receptionists, on 01403 276272.
Alternatively use our contact us page. Evening and some weekend appointments are available, allowing you to fit your appointment into your busy schedule.
Our Facility?
About Our Clinic
We have four modern, air-conditioned treatment rooms, ensuring total privacy for all patients.
Comfortable waiting area with tea and coffee facilities.
Convenient parking at the front of the clinic, including disabled spaces.
Disabled toilet facilities onsite. All ground floor, ease of access throughout.
Footwear Solutions is our onsite shoe shop, staffed by our podiatrists and professional shoe fitters. We hope to offer the best shoe solution to help solve your foot problem.
Call us on 01403 276272 or use our contact us page to see how we can help you.
Call us on
 

01403 276 272

 

to ask a question or to book an appointment