Warwick Harvey
Sports Remedial & Massage Therapy in Horsham
Sports & Massage Therapy
in Horsham
Sports massage is useful for anyone leading an active life, not just the athlete.
It relaxes muscles to prevent injuries and muscular tension.
The effects of massage increase blood circulation and lymph flow, helping drain the stress and fatigue out of the muscles. Relaxed muscles are more flexible and less prone to injury and pain.
Book an appointment and Feel Better…
Call for your appointment today on 01403 276 272 or email us here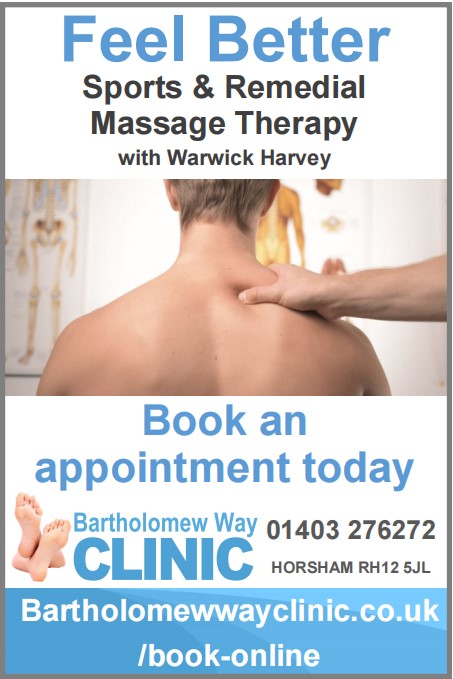 Whether you just want to avoid those little injuries that stop you getting the most out of your every day activities, or need help preparing for peak athletic performance, come to the Bartholomew Way Clinic.
Visit our highly qualified Sports Massage Therapist Warwick Harvey and he can help you achieve your goals and Feel Better…
Warwick can put together a program that's suited to your needs, to help you stay in tip top condition.
Keep your body in tip-top shape and call for your appointment today on 01403 276 272 or email us here.
Our Team of Non-Foot Professionals
Physiotherapy, Sports Therapy, Massage Therapy
Where Are We?
How to find us
We are situated in the Holbrook area of Horsham; off Rusper Road coming from Horsham town centre, or off the A264 from Crawley and Gatwick. Located opposite the Holbrook Doctors' Surgery, within a small parade of shops. See our find us page for maps, or scroll to this page footer.
For an appointment or chat with our therapists call Jackie, Michelle, Louise or Alison our receptionists, on 01403 276272.
Alternatively use our contact us page. Evening and some weekend appointments are available, allowing you to fit your appointment into your busy schedule.
Our Facility?
About Our Clinic
We have four modern, air-conditioned treatment rooms, ensuring total privacy for all patients.
Comfortable waiting area with tea and coffee facilities.
Convenient parking at the front of the clinic, including disabled spaces.
Disabled toilet facilities onsite. All ground floor, ease of access throughout.
Footwear Solutions is our onsite shoe shop, staffed by our podiatrists and professional shoe fitters. We hope to offer the best shoe solution to help solve your foot problem.
Call us on 01403 276272 or use our contact us page to see how we can help you.
Call us on
 

01403 276 272

 

to ask a question or to book an appointment