Bartholomew Way Clinic
About Us
The Bartholomew Way Clinic is a multi-discipline practice.
Our team of medical specialists includes chiropodists, podiatrists, physiotherapists and massage practitioners.
We work together to provide the best treatment plan for your individual problem.
Using our laser digitisers we can scan your feet and make bespoke footbeds and medical orthotics for your new or existing shoes.
Call us on 01403 276272 or use our contact us page to see how we can help you.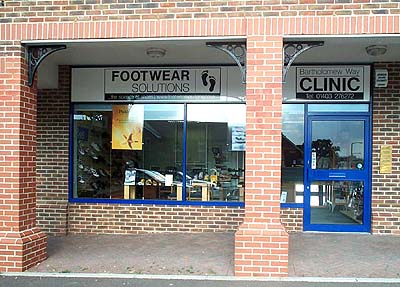 Where Are We?
How to find us
We are situated in the Holbrook area of Horsham; off Rusper Road coming from Horsham town centre, or off the A264 from Crawley and Gatwick. Located opposite the Holbrook Doctors' Surgery, within a small parade of shops. See our find us page for maps, or scroll to this page footer.
For an appointment or chat with our therapists call Jackie, Michelle, Louise or Alison our receptionists, on 01403 276272.
Alternatively use our contact us page. Evening and some weekend appointments are available, allowing you to fit your appointment into your busy schedule.
Our Facility?
About Our Clinic
We have four modern, air-conditioned treatment rooms, ensuring total privacy for all patients.
Comfortable waiting area with tea and coffee facilities.
Convenient parking at the front of the clinic, including disabled spaces.
Disabled toilet facilities onsite. All ground floor, ease of access throughout.
Footwear Solutions is our onsite shoe shop, staffed by our podiatrists and professional shoe fitters. We hope to offer the best shoe solution to help solve your foot problem.
Call us on 01403 276272 or use our contact us page to see how we can help you.
Recent News
from our blog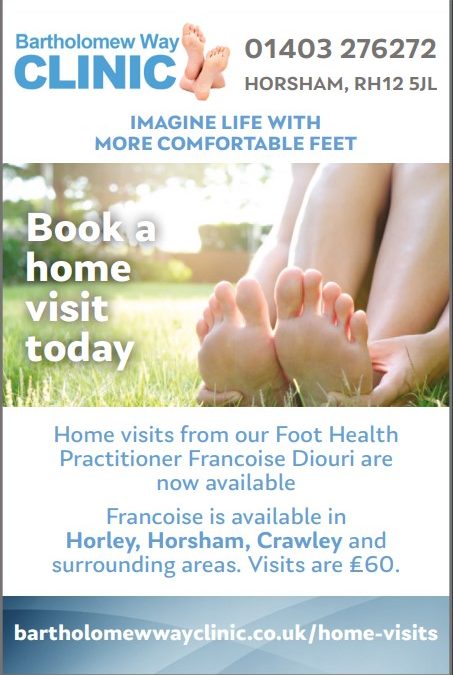 ADVERTS IN LOVEHORSHAM Home Visits for you or your loved one's feetWe've partnered with Mantra Magazines for some of our marketing needs for many years. I'm pleased to say we now have some small ads in Love Horsham and Love Horley over...
Happy Patients
Client testimonials

I would just like to say thanks for your great treatment last Wednesday…
I feel like I have a new pair of feet.
Thank you

Dear David,
I wanted to put in writing my sincere thanks for your care over the last 6 months.
I know that the positive outcome of my shoulder injury is due, in large part, to your highly professional skills.
Your ability to heal body and soul has meant a lot to me.
Thank you again.
Kind Regards 

"I would like to say thank you for my great new shoes.
The shoe modifications that Charles has undertaken on my shoes are fantastic.
From my first consultation about my leg length problem to the fitting of my super new shoes Charles has put me at ease.
I will be back with more shoes for alteration soon.
Mrs R"

"I would just like to say a huge 'Thank You' to all of the team at Bartholomew Way Clinic.
My daughter recently had nail surgery with you on both big toes and as promised she was able to carry on doing sport and normal activities shortly afterwards.
The after care she received was brilliant and very thorough.
We were dealt with in a very professional manner by all of the staff and I would trust them implicitly.
I cannot say enough how this treatment is good value for money!
THANK YOU!"

I know it's a cliche but I feel like I'm walking on air with my new orthotics.
Many thanks to both Charles and Mo who have helped me greatly.

Thanks very much for the great job of refurbishing my orthotics.
Excellent customer service and really pleased with the results. Will
definitely be using your service in future.
Kind regards.
Call us on
 

01403 276 272

 

to ask a question or to book an appointment