Shockwave Therapy 
An effective treatment for longstanding / chronic painful conditions 
SHOCKWAVE THERAPY
For chronic musculo-skeletal injuries
What is shockwave therapy?
Shockwave is a non- invasive medical technology that delivers high pressure sound waves to affected areas of the body and aids speedy recovery. Shockwave therapy involves passing high intensity sound waves into the site of injury to encourage healing by boosting blood flow, putting cells into repair mode, allowing your body to restart its natural healing process, while reducing pain. Shockwave therapy itself can be mildly uncomfortable.
Shockwave is approved by the national institute for health and care excellence or NICE and is completely safe when performed by qualified clinicians.
Why consider shockwave?
It is an effective and widely accepted clinical practice for the treatment of chronic (long-standing) soft tissue injuries. In the past shockwave was a treatment method for breaking down kidney stones and helped people to avoid a painful surgical process.
At Bartholomew Way Clinic & FeetPlus we use shockwave to treat a range of conditions with great results. Long-standing (3 month +) injuries of tendons, muscles and bone respond exceptionally well to 4-6 sessions of shockwave therapy.
What treatments respond well to shock wave therapy?
Plantar Fasciitis
Heel & Arch Pain
Achilles Tendonosis
Shin Splints
Sesamoiditis
Metatarsalgia
Painful Bunions
PTTD
Plantar Nerve Neuritis
Calf Injuries
Runners Knee pain
Take your first steps towards less painful walking and standing, book online, call us on 01403 276272 or send us an email on our contact page.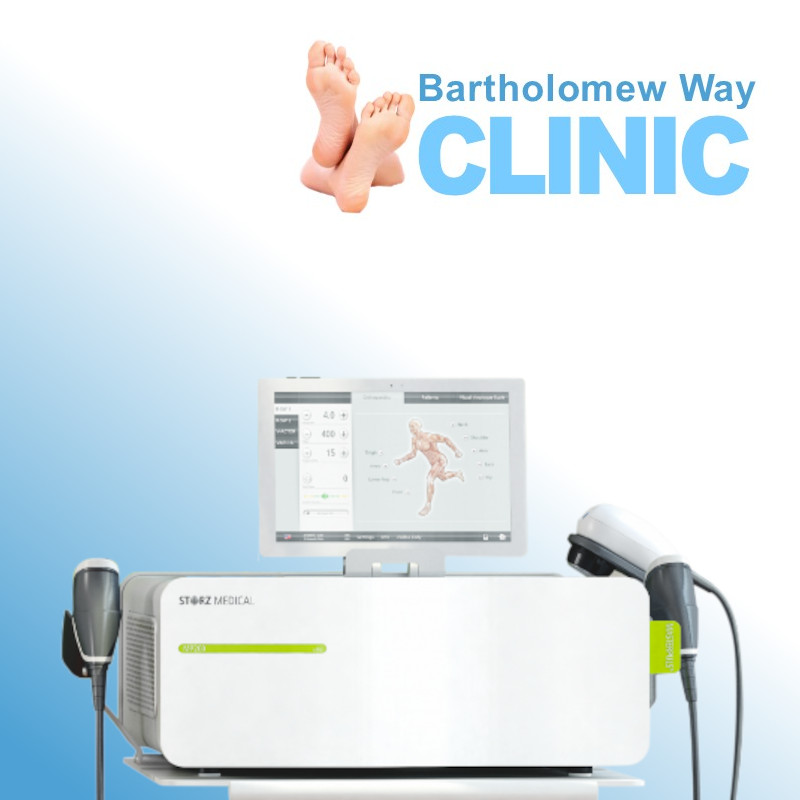 Why should I opt for Shockwave therapy?
 Shockwave is an effective non-surgical solution for pain and injury that has been resistant to other treatment.
It can be used to treat both acute and chronic conditions.
Our Storz MasterPULZ system includes a V-actor massage head that we use to reduce discomfort during shockwave treatment.
Anaesthesia is not needed, but if treatment discomfort is high we offer Entonox (gas and air) inhalational analgesia when required.
The procedure itself is non-invasive
It is very safe.
Shockwave Packages
Shockwave treatment Packages (with V-Actor and Entonox where required) :
4 treatments £350
5 treatments £390
6 treatments £440
Shockwave single treatment £95 
 Book your initial assessment to determine your suitability and take your first steps towards less painful walking and standing, book online, call us on 01403 276272 or send us an email on our contact page.
Where Are We?
How to find us
We are situated in the Holbrook area of Horsham; off Rusper Road coming from Horsham town centre, or off the A264 from Crawley and Gatwick. Located opposite the Holbrook Doctors' Surgery, within a small parade of shops. See our find us page for maps, or scroll to this page footer.
For an appointment or chat with our therapists call Jackie, Michelle, Louise or Alison our receptionists, on 01403 276272.
Alternatively use our contact us page. Evening and some weekend appointments are available, allowing you to fit your appointment into your busy schedule.
Our Facility?
About Our Clinic
We have four modern, air-conditioned treatment rooms, ensuring total privacy for all patients.
Comfortable waiting area with tea and coffee facilities.
Convenient parking at the front of the clinic, including disabled spaces.
Disabled toilet facilities onsite. All ground floor, ease of access throughout.
Footwear Solutions is our onsite shoe shop, staffed by our podiatrists and professional shoe fitters. We hope to offer the best shoe solution to help solve your foot problem.
Call us on 01403 276272 or use our contact us page to see how we can help you.
Call us on
 

01403 276 272

 

to ask a question or to book an appointment