Are you suffering from a painful toenail?
We can help solve your problem permanently.
We have undertaken many hundreds of nail surgery procedures and we have many happy patients who no longer have problems with their toenails.
Book a consultation now and take your first steps to permanently more comfortable feet and toenails.
Call reception on 01403 276272  (quote "WEBPAGE")  or use the contact form
A typical surgery schedule will involve:
An initial assessment of 30 minutes charged at £41 followed by:
A 45-60 minute surgery appointment (often the next day).
We then like to see you again to redress the toe(s) within 48 hours (ideally 24 hours later).
Then a carefully demonstrated routine of self redressing for 2- 3 weeks followed by another review appointment.
Often self redressing will continue for several weeks after this.  Most toenails heal quickly and completely in 3-6 weeks, some can take longer.
This package includes up to 3  follow-up appointments to healing and costs £440.
We undertake partial and total nail avulsion surgeries, with phenolic ablation of the nail matrix, under local anaesthesia.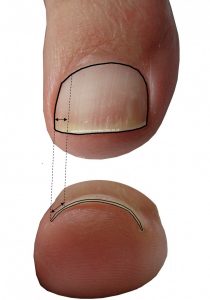 These procedures can be appropriate for a wide range of toenail problems, from an acute inflamed bleeding toe to a longstanding ingrowing toenail that flares occasionally. We also treat patients with thickened nails and nails that are persistently uncomfortable with minor surgical procedures.
Nail surgery may not be appropriate for all nail problems or patients.