Bartholomew Way Clinic
About Us
The Bartholomew Way Clinic is a multi-discipline practice.
Our team of medical specialists includes chiropodists, podiatrists, physiotherapists and massage practitioners.
We work together to provide the best treatment plan for your individual problem.
Using our Swiss made Orthofit 3D footscanner and onsite CAD/CAM Milling machine we can scan your feet and make bespoke footbeds and medical orthotics for your new or existing shoes.
Call us on 01403 276272 or use our contact us page to see how we can help you.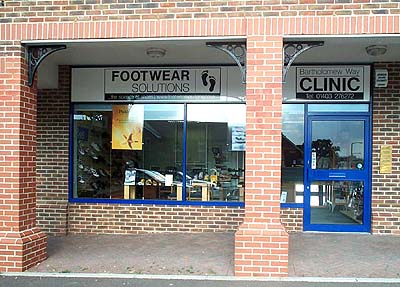 Where Are We?
How to find us
We are situated in the Holbrook area of Horsham; off Rusper Road coming from Horsham town centre, or off the A264 from Crawley and Gatwick. Located opposite the Holbrook Doctors' Surgery, within a small parade of shops. See our find us page for maps, or scroll to this page footer.
For an appointment or chat with our therapists call Jackie, Michelle, Louise or Alison our receptionists, on 01403 276272.
Alternatively use our contact us page. Evening and some weekend appointments are available, allowing you to fit your appointment into your busy schedule.
Our Facility?
About Our Clinic
We have four modern, air-conditioned treatment rooms, ensuring total privacy for all patients.
Comfortable waiting area with tea and coffee facilities.
Convenient parking at the front of the clinic, including disabled spaces.
Disabled toilet facilities onsite. All ground floor, ease of access throughout.
Footwear Solutions is our onsite shoe shop, staffed by our podiatrists and professional shoe fitters. We hope to offer the best shoe solution to help solve your foot problem.
Call us on 01403 276272 or use our contact us page to see how we can help you.
Recent News
from our blog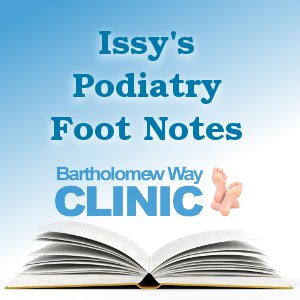 Orthotics for leg length discrepancy are in-shoe devices that can play an essential part in helping you get back on your feet and doing the activities you love. Orthotics are special insoles that aid and correct foot function. orthotics...
Happy Patients
Client testimonials

I wanted to write and thank Gary for his  understanding and careful treatment of my corn last week. I was terrified but he took time to put me at ease and solved the problem painlessly. The toe now feels like it used to again. Many many thanks.

Hello, I just wanted to let you know that I was thoroughly satisfied with the appointment I had with your dietitian Paula Gilbert. I felt she really listened and took onboard my needs. She sent through my plan very quickly and answered my subsequent query without delay. I would definitely recommend her services. Thank you.

I have been going to Bartholomew Way Clinic since it opened and am extremely happy with the care and attention I have always received and continue to receive.
The podiatrists are very professional and I am pleased to see that the business has expanded over the years and continues to thrive.
I also wish to mention the reception staff. They are second to none,always friendly and very helpful but in a professional manner.

I never cease to be surprised at how ugly friends feet are. Smart, attractive, well-off women (and men) of my acquaintance, have the most ghastly feet; thickened nails, black, cracked heels. And though looks matter greatly, it is so very unhealthy to have uncared for feet and toenails. I am also very impressed with the charming staff on reception, what a difference smiling faces on the front desk makes.
Also, I am very impressed with the wide medical knowledge of the chiropodists in areas I might have though not in their area of expertise.

"During one of several visits to the podiatrist for treatment on my feet, and whilst chating about a trapped nerve I have, he recommended I have a session with a young lady sports therapist called Francesca.
What a wonderful lady she is, so thorough and she works really hard for the whole session. She has made a real difference to my life and I can recommend her to absolutely anybody. I would like to thank her for all her caring and kindness towards me, Yours sincerely Mrs MN"
Call us on
 

01403 276 272

 

to ask a question or to book an appointment