What is plantar fasciitis?
Plantar fasciitis is a common condition that causes pain on the bottom of your foot, although the pain is usually localised to either the ball of the foot or the middle of the heel, the pain can be anywhere underneath. As can be seen by the picture where pain can be felt anywhere along the red line!!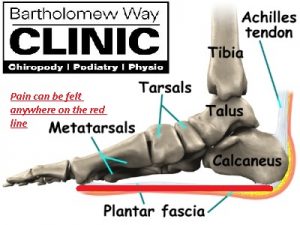 Signs and Symptoms of Plantar Fasciitis!!
The diagnosis of plantar fasciitis is usually made by clinical examination, along side certain key signs and symptoms that are associated with planter fasciitis.So do you think you have plantar fasciitis? Below is a list of positive clinical examinations along side the most common reported signs and symptoms;
Pain on the undersurface of the foot (usually on the middle of the heel bone, or on the ball off the foot in the middle)
Pain first thing in the morning and pain after periods of sitting for a long time
less stiffness and pain after walking around for a while
What causes plantar fasciitis?
It is caused by straining the plantar fascia that supports the arch, repeated strain can cause tiny tears in the plantar fascia that can lead to pain and swelling. It is important to get planter fasciitis resolved very quickly, obviously because of the pain, but also because if it is left for long periods of time then it can become chronic in nature and be harder to fix than if it merely happened a few days ago. But never fear there are things we can do if it has been there for a long time!!!
Below is a list of the most common causes of plantar fasciitis!!
your  feet have a tendancy to roll in and look like your arch drops, this is known as excessive pronation
you have high arches
you have a flat foot
you have a job that means your on your feet for long periods of time
you are carrying a few extra pounds
you wear shoes that have minimal support in terms of a thin sole or slip on shoes, or they are worn out
you have tight muscles in the calf (back of the leg)
How is it treated?
If your reading this and you think well I've tried a few of these online treatments and nothing is working, it is important to remember that different treatments work well for different people, and no one single treatment works well in isolation. Plantar fasciitis needs to be treated in various different ways to really repair the plantar fascia in as short amount of time as possible.
Here is a few tips to try to repair the plantar fascia…….
Try and take a break from activity for a while, give your feet a rest
To reduce the pain and swelling try topical ibuprofen, or icing the under surface of the foot
Calf's need to be stretched, in order to feel the benefit of the stretch, it needs to be held for at least 30 seconds (ideally 45 seconds). This needs to be done twice a day
When you wake up in the morning spend 30 seconds massaging along the length of the heel
Ideally get a new pair of shoes
It is also important to see what is going on with the structure of your foot, and see if this will cause you to have plantar fasciitis in the future or other conditions associated with the feet, some patients get an alleviation in symptoms with the stretching and tips above, however it may come back due your foot structure not being in the ideal place… If you are concerned about this then please don't hesitate to give me a call and come in.
we offer many more methods for plantar fasciitis treatment…… just call in and have a chat!!!
Please don't hesitate to give us a call on 01403 276 272 or contact us to discuss any problems you are having with your corns and callus.